There's so much to write in this post, I don't even know where to start. So I'll start at the beginning:
I'M NOW A REGULAR PERSONALITY ON HALLMARK CHANNEL'S EMMY-NOMINATED "HOME AND FAMILY" MORNING SHOW!
To say that I'm elated is a massive understatement. The new season just launched this week and I've been waaaaiiiiiiittttting for it since last March! Like a toddler decked out in a Snow White dress on her birthday. I've been sooooooo excited. I wished for it all summer. It happened.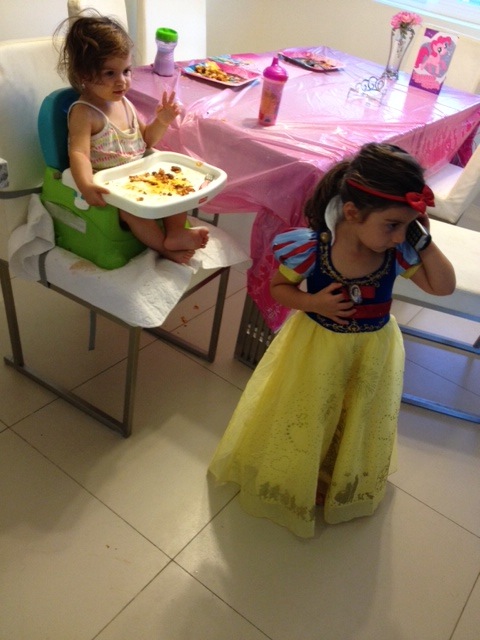 Snow White had a phonecall.
But with good and wonderful things always comes balance. I even scoff at the word: BALANCE. Many a mom I know will tell you there's no such thing. There's juggling. There's dodging. There's coordinating. There are lots of deep breaths. Sometimes, you can't think… you just have to GO. This weekend – the weekend before my very first day at this current dream-come-true job of mine – I had to just GO. So I did. (Now that I think about it, these things seem to happen to me late September.)
In a nutshell: It was my LadyP's birthday. The big family royal court party was planned for the weekend (more on that in another post). I had swords, crowns and big plans involving big yellow-and-blue dresses (yes, Snow White to be exact). Meanwhile, my 18-month old LilMiss got a freak fever of 104 Friday afternoon. I noticed she was acting weird as I pushed them around in the humongous cart at Costco. That night, I cancelled my plans to stay home and cold-compress, administer Tylenol and ultimately cry with her as she was more miserable than I'd ever seen her. I let the older sister (soon-to-be birthday girl) watch marathons of Tinkerbell to keep her occupied. Keep going, I thought. (It's what moms do.) After whipping up a quick batch of sort-of-homemade hot-pink frosty cookies (despite my Home and Family assignment to make HOMEMADE cookies for National Cookie Day… if you watched this Tuesday's show you know what I'm talking about) and one Saturday night trip to the ER to make sure my LilMiss didn't have some spontaneous disease (now with a temperature of 105), one cancelled toddler birthday party (thanks to the 105 temp) and a plate of hot-pink frosty cookies that just looked like a hot mess to me, I realized: I was officially in the Working Mothers Club. I'd spent the last few years willing and working towards this to happen, and it did. Finally. And, like I've said, with all good and wonderful things comes challenge. It's part of the game. It's part of life. Just keep going, I thought. (This is what they invented coffee for, right?)
I finally gave myself some therapy at 3am Monday morning (Sunday night, the night before my first day on set) when both my girls woke up in the middle of the night and I caught myself slipping into what all working-moms experience: Near-Burnout. (On account of the totally-planned-then-cancelled party, the fever-and-accompanying-screaming, the cookie-planning and show-prep… and technically I hadn't even begun working yet.)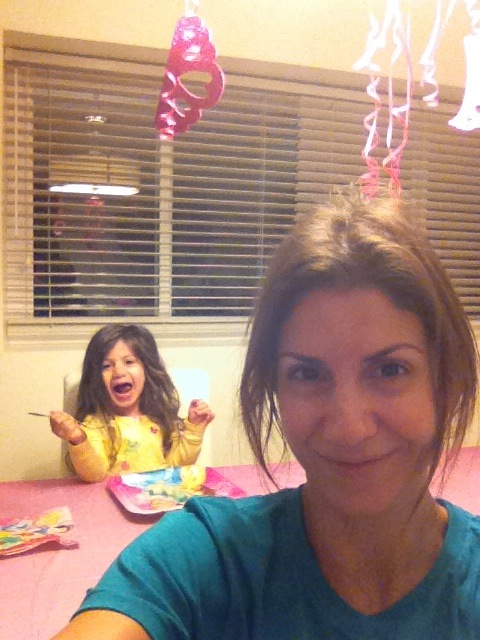 Unedited & unfabulous: What I look like at 3am. (Yes, she had fruit because she asked and I didn't feel like dealing with it.)
I had cancelled the princess party, my cookie-assignment was not my best work, my baby was screaming and burning hot. But you know what? Life goes on. (This too, shall pass.) Sure, I was tempted to continuously feel sad about having to cancel LadyP's birthday, I was tempted to fret about the not-really-that-homemade-cookies (that were supposed to be homemade) and I was tempted to worry about the horrific undereye circles that'd be blatantly-offensive on national television the next day. GET OVER IT. I'm not the first working mom in the world…. and I'm not the last. This. Is. What. We. Do. I've never tolerated guilt, and I wasn't going to start now. It's the week of Momfair, after all… if nothing else, my experience was absolutely appropriate. Game on.
Luckily, I had the foresight to decorate our kitchen in pink streamers and princess napkins (a surprise for my birthday girl), I put Hubby on-task for monitoring LilMiss' Tylenol and Motrin doses and I started to look at my florescent pre-mixed frosted sugar cookie bars with a sense of accomplishment rather than disgust. I wanted to return to the workforce… so I'M GONNA WORK IT. Fight. Or. Flight. It was my choice. I chose to think about one saying that seems to get me through mommy challenges like this: Women Rule. Moms rule. Reminding myself of this gives me strength when I need it.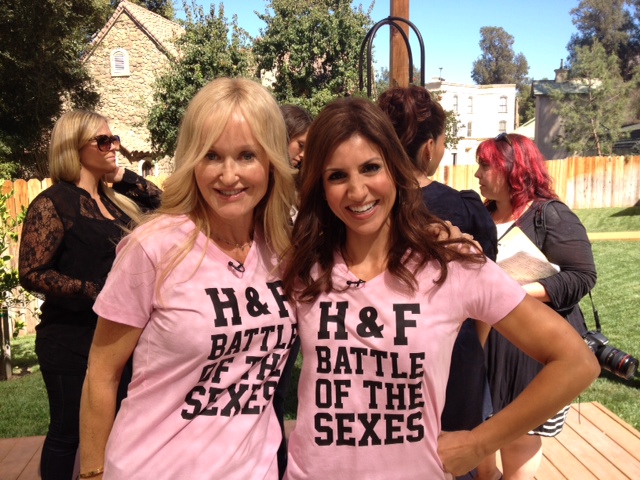 Moms rule. The gorgeous blonde is Sofie Uliano of GorgeouslyGreen.com.
And guess what: LilMiss is on the mend, Snow White had a lovely birthday-day and I got a free pink T-shirt for running through tires on television (if ya watched the show, you're with me… and you also saw how mom and healthy beauty advocate Sofie Uliano of GorgeouslyGreen can rock a football).
Here's to the working moms and pre-made cookies everywhere. This too, shall pass. I promise.
HOW DO YOU GET OVERCOME BEING OVERWHELMED?
- See more at: http://thefabmom.com/2013/09/30/filosophy-working-moms-sick-babies-pre-mixed-birthday-cookies/#sthash.hWCJSKrk.dpuf
Read More
Originally appeared on Forbes.com
Work and family life don't need to conflict; they need to coexist. It is time to stop glamorizing the alternative and talk about the big bonuses of keeping up your career after you have a child.  Here are 8 great reasons to stay in the workforce after having a baby: 1. You will Enjoy a Happier Marriage Studies show that couples in which both spouses work have greater marital satisfaction. Your marriage will be more likely to thrive if you have something to focus on outside of the home and your spouse will feel less financial pressure if you bring home some of the bacon. 2. You Will Remain Financially Independent As Leslie Bennetts described in her book "The Feminine Mistake," in more than half of traditional marriages, the male spouse will either die prematurely, lose his job or leave his wife. When this happens to a stay at home mom, there is no safety net and the entire family's financial stability is jeopardized. Further, many women report losing financial power in their home when they leave the workforce. You never want to be pitching your spouse on a purchase. 3. You Will Raise Stronger Kids We are now aware of the deep dangers of overparenting, also known as helicopter parenting. When you stay at home, you are far more inclined to over-parent because parenting becomes your sole focus. As expert Michele Borba explains,"If we keep hovering we will rob our kids of self-reliance." 4. You Will Secure Future Earnings A woman who leave the workforce for just three years after having kids give up 37% of her future earnings according to a study done by Sylvia Ann Hewlett. This puts your family's financial health at risk. 5. You Will Gain Personal Fulfillment Getting personal satisfaction from something other than your children is critical to being a great parent and a happy one. As France's most famous parenting authority Pamela Druckerman explains, "The reigning view in France is that if a child is a woman's only goal, everyone suffers, including the child." 6. You Will Bring Worldliness to Your Home When you stay home, your world shrinks because you are surrounded by women like you; moms of the same age, ethnicity and socioeconomic status typically cluster together. By keeping up your career, you will be a more active participant in the world and expand the perspectives you bring into your home. As former stay at home mom Lisa Heffernan explains "In the workplace my contacts and friends included both genders and people of every description, and I was better for it." 7. You Will Serve As A Role Model There are two ways you have a greater good impact as a working mom. Firstly, the future generation of young women need working mom role models for support, inspiration and mentorship. And then of course, there is the role modeling that goes on in your own home. A Harvard educated mom who returned to life as an entrepreneur after seven years at home tells this story: When she explained to her kids that she would be starting a company, they asked how that could be since, "Daddies start businesses and mommies stay home." She sprinted to the office and hasn't looked back. 8. You Will be Happier A recent study showed that stay at home moms suffer from significantly greater levels of depression by age 40 than working moms. It is hard to raise a happy child if you are an unhappy mom. As the old adage goes, when mom isn't happy, nobody is. Samantha Ettus is the leading lifestyle and parenting expert for working women. She is the founder of Working Moms Lifestyle, a bestselling author and speaker. Connect with her at @samanthaettus.
Read More