There's so much to write in this post, I don't even know where to start. So I'll start at the beginning:
I'M NOW A REGULAR PERSONALITY ON HALLMARK CHANNEL'S EMMY-NOMINATED "HOME AND FAMILY" MORNING SHOW!
To say that I'm elated is a massive understatement. The new season just launched this week and I've been waaaaiiiiiiittttting for it since last March! Like a toddler decked out in a Snow White dress on her birthday. I've been sooooooo excited. I wished for it all summer. It happened.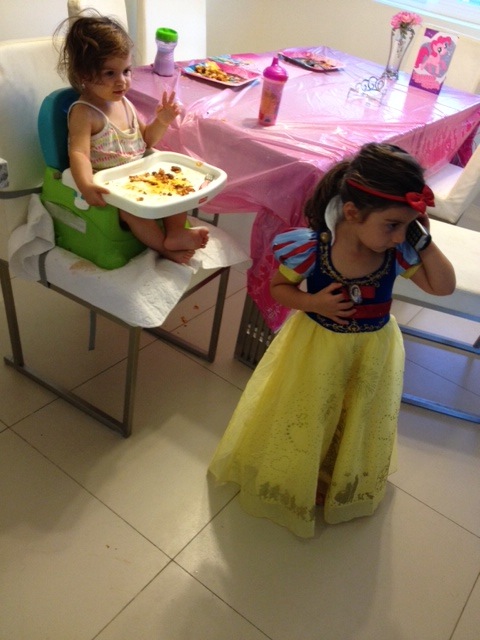 Snow White had a phonecall.
But with good and wonderful things always comes balance. I even scoff at the word: BALANCE. Many a mom I know will tell you there's no such thing. There's juggling. There's dodging. There's coordinating. There are lots of deep breaths. Sometimes, you can't think… you just have to GO. This weekend – the weekend before my very first day at this current dream-come-true job of mine – I had to just GO. So I did. (Now that I think about it, these things seem to happen to me late September.)
In a nutshell: It was my LadyP's birthday. The big family royal court party was planned for the weekend (more on that in another post). I had swords, crowns and big plans involving big yellow-and-blue dresses (yes, Snow White to be exact). Meanwhile, my 18-month old LilMiss got a freak fever of 104 Friday afternoon. I noticed she was acting weird as I pushed them around in the humongous cart at Costco. That night, I cancelled my plans to stay home and cold-compress, administer Tylenol and ultimately cry with her as she was more miserable than I'd ever seen her. I let the older sister (soon-to-be birthday girl) watch marathons of Tinkerbell to keep her occupied. Keep going, I thought. (It's what moms do.) After whipping up a quick batch of sort-of-homemade hot-pink frosty cookies (despite my Home and Family assignment to make HOMEMADE cookies for National Cookie Day… if you watched this Tuesday's show you know what I'm talking about) and one Saturday night trip to the ER to make sure my LilMiss didn't have some spontaneous disease (now with a temperature of 105), one cancelled toddler birthday party (thanks to the 105 temp) and a plate of hot-pink frosty cookies that just looked like a hot mess to me, I realized: I was officially in the Working Mothers Club. I'd spent the last few years willing and working towards this to happen, and it did. Finally. And, like I've said, with all good and wonderful things comes challenge. It's part of the game. It's part of life. Just keep going, I thought. (This is what they invented coffee for, right?)
I finally gave myself some therapy at 3am Monday morning (Sunday night, the night before my first day on set) when both my girls woke up in the middle of the night and I caught myself slipping into what all working-moms experience: Near-Burnout. (On account of the totally-planned-then-cancelled party, the fever-and-accompanying-screaming, the cookie-planning and show-prep… and technically I hadn't even begun working yet.)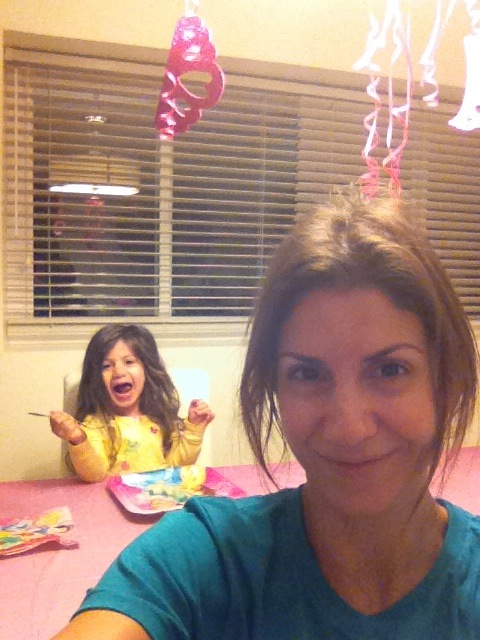 Unedited & unfabulous: What I look like at 3am. (Yes, she had fruit because she asked and I didn't feel like dealing with it.)
I had cancelled the princess party, my cookie-assignment was not my best work, my baby was screaming and burning hot. But you know what? Life goes on. (This too, shall pass.) Sure, I was tempted to continuously feel sad about having to cancel LadyP's birthday, I was tempted to fret about the not-really-that-homemade-cookies (that were supposed to be homemade) and I was tempted to worry about the horrific undereye circles that'd be blatantly-offensive on national television the next day. GET OVER IT. I'm not the first working mom in the world…. and I'm not the last. This. Is. What. We. Do. I've never tolerated guilt, and I wasn't going to start now. It's the week of Momfair, after all… if nothing else, my experience was absolutely appropriate. Game on.
Luckily, I had the foresight to decorate our kitchen in pink streamers and princess napkins (a surprise for my birthday girl), I put Hubby on-task for monitoring LilMiss' Tylenol and Motrin doses and I started to look at my florescent pre-mixed frosted sugar cookie bars with a sense of accomplishment rather than disgust. I wanted to return to the workforce… so I'M GONNA WORK IT. Fight. Or. Flight. It was my choice. I chose to think about one saying that seems to get me through mommy challenges like this: Women Rule. Moms rule. Reminding myself of this gives me strength when I need it.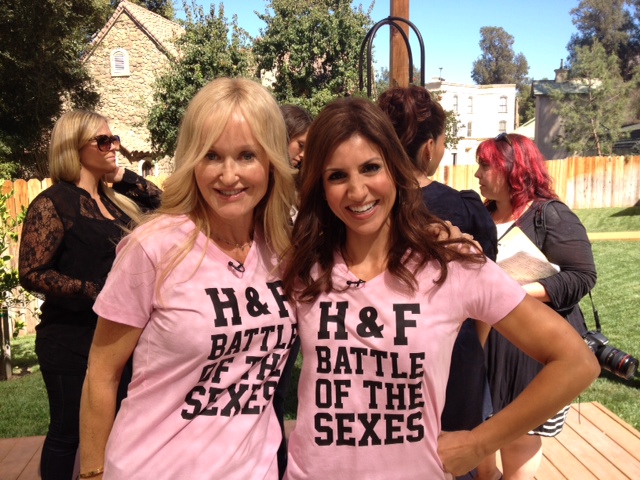 Moms rule. The gorgeous blonde is Sofie Uliano of GorgeouslyGreen.com.
And guess what: LilMiss is on the mend, Snow White had a lovely birthday-day and I got a free pink T-shirt for running through tires on television (if ya watched the show, you're with me… and you also saw how mom and healthy beauty advocate Sofie Uliano of GorgeouslyGreen can rock a football).
Here's to the working moms and pre-made cookies everywhere. This too, shall pass. I promise.
HOW DO YOU GET OVERCOME BEING OVERWHELMED?
- See more at: http://thefabmom.com/2013/09/30/filosophy-working-moms-sick-babies-pre-mixed-birthday-cookies/#sthash.hWCJSKrk.dpuf
Read More
Going back to work after having a baby can be daunting. Whether you're counting down the days (in a good way) or dreading it like doomsday, you're sure to be running the gamut on emotions, and feeling pressure to get organized.
10 Tips From Moms Who Learned To Make It Work:
1. Try to remain optimistic.
If you are dreading leaving your newborn and think you both will be emotionally scarred forever, know this: You won't be. You may even find that being around adults again is rewarding. And your little one will be safe and happy in the capable arms of a trusted caregiver.
2. On that note, hire someone you trust.
Do your due diligence. This is not the time for a rush job. Interview several people, check their backgrounds, ask for references and above all: Trust your gut. You'll never feel secure if you hire the woman with 20 years experience if something about her didn't sit well with you. Your instincts are a great barometer.
3. Prepare.
Make sure your nanny or babysitter knows your cell phone numbers, your home address, the baby's schedule and where the emergency equipment is (first aid kit, fire extinguisher, etc.). Talk to your nanny about the circumstances under which you should be contacted at work; if you get pulled out of a meeting because the nanny called, your first reaction will be panic, when she just had a simple question about picking up groceries. Be sure to do a few trial runs -- leave the babysitter with your child for shorter periods of time while you are still on maternity leave to help everyone get oriented.
4. Baby proof.
Your newborn is just a bundle now, but before you know it, he or she will be crawling—and heading straight for that three-prong outlet. Go to the baby gear store and get what you need—outlet covers, cabinet locks, toilet locks, soft corner covers, and whatever else your house might require. You'll feel better knowing it's done, especially when you're at work.
5. Stock up.
No need to be running to the store after work every other night. It's so much easier to stock up NOW on the things you know you'll need. Head to a big box store and buy a 2-3 month supply of diapers (don't forget to size up), wipes, formula, baby food, laundry detergent, bath soap, diaper cream, and anything else your baby might need in the coming months. Just one less thing to do…
6. Buy a pump.
If you're breastfeeding, get a good pump and test it out ahead of time. A hands' free pumping bra will help too. Also, prepare your baby to be bottle-fed. Don't wait until the morning you leave for work — if he or she is at all reluctant, you'll regret not trying earlier.
7. Ease In.
Gradually ease back into work if you can. See if you can work shorter hours the first week, or plan to start back on a Wednesday or Thursday so that the first week doesn't seem so long.
8. Redefine the word "first."
It can be hard initially when a nanny is the one who first sees your baby roll over, crawl, or take her initial steps. Try to savor the first time you see the milestone and realize it's just as special.
9. Strength in Numbers.
Seek out other working moms at your company. You may not have been close to them before you had a baby, but now it may help to have a mom friend at work. They understand what you are going through and you can offer each other tips and support.
10. Don't feel guilty.
Dozens of studies confirm that there are no fundamental differences between children reared by stay-at-home-parents and those cared for by nannies or day care centers. So, enjoy those moments to yourself, try not to focus on the negative, and make the most of quality time with your child when you get home. Lynn Perkins is CEO and co-founder of
UrbanSitter
, an online resource to find and book trusted babysitters and nannies. Browse detailed babysitter and nanny profiles, read reviews from parents, and schedule interviews at the click of a button--it's quick, easy, and efficient.
Lynn will be speaking at this year's MomFair, so don't miss out!
Read More